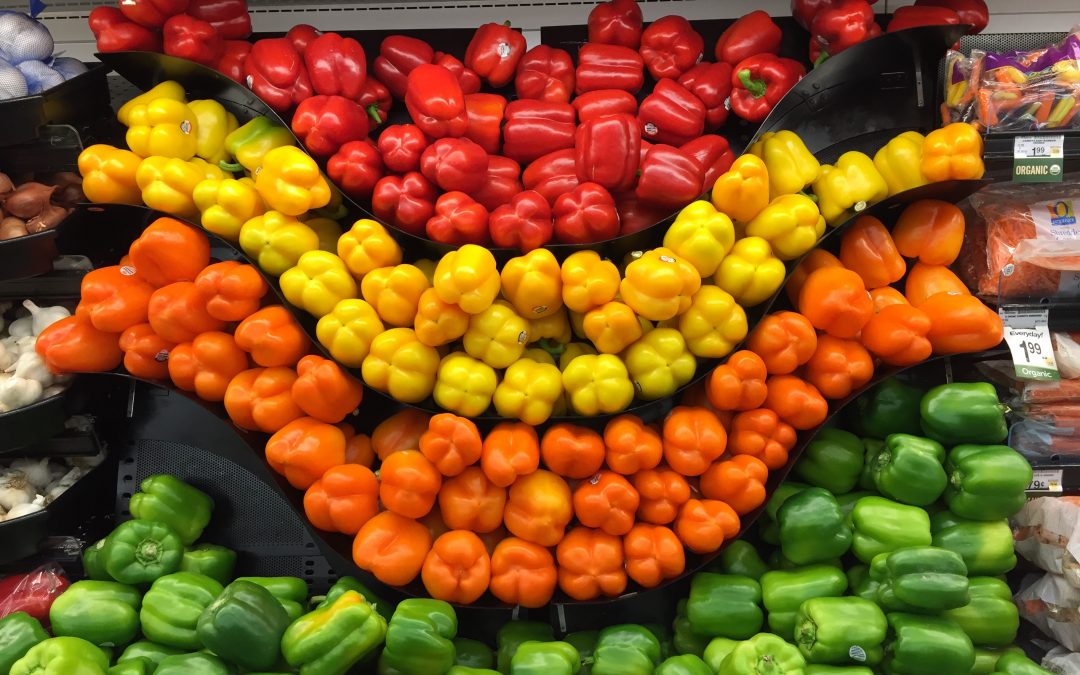 Initial emotional reactions to any unexpected display of creativity may bring feelings of surprise, amazement, delight, or perhaps even our favorite British expression – gobsmacked! Imagine turning a corner in the grocery story and being presented with a "smiling" wall of peppers. Stopping you in your tracks. Making you smile. Causing you to exclaim "Cool!" "Awesome!" All these reactions, quickly followed by a laugh, create a happy moment squeezed into a mission of grocery shopping. 
Being Open
Creativity is all around us! Perhaps you feel challenged or unsure of its place and purpose in your classroom. Wouldn't it be interesting to bring those accompanying feelings of surprise to learning environments? The first step is to help students be more open to new encounters and perspectives. Making them aware of things that may have previously gone unnoticed. For instance, you could have walked up to the "smiling" vegetable display and thought, "Oh, I see the one I want –  the yellow one. It's on the middle 'shelf'." Having a conversation about this photo of "smiling" vegetables might be a fun place to start. 
"Discovery consists of looking at the same thing as everyone else and thinking something different."

~ Albert Szent-Gyorgyi
Wonder Walks
Learning and honing the skill of being more observant is the second step. Encourage students to go on Wonder Walks on their way to school, at the mall, around their neighborhood, in the science museum, or in the heart of a big city. A fun one to do is a Wonder Walk of their favorite color. Here's one we did of everything yellow on our way to and through Denver Botanic Gardens.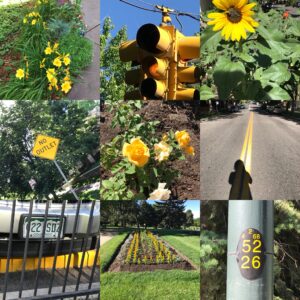 Challenge your students to continue to seek and find example after example of creativity everywhere – using their open, unboxed imaginations. Start building a Wonder Wall (sketches, photos, and ideas) to capture their observations and insights. A great place for students to visit for future inspirations as they design and create their own products
After the initial burst of emotions (following creative encounters), students' curiosity and wonderment immediately take over. Spurring questions. "Why did they do that?" "How did they come up with that idea?" And as in the case of the "smiling" peppers, "I wonder who actually stacked the peppers that way?"  "Are there any other creative displays in the store?" I wonder conversations are great places to jump start students' imaginations and to create a buzz of engagement. 
Dendrites in High Gear
Creativity throws our dendrites into high gear! You see, the brain craves novelty! Just the stimulus to inspire students to want to know (and do) more. They might begin to think of other ways they could display merchandise. Cans could be stacked to create a flag around the 4th of July. Cereal boxes could be arranged to form a Christmas tree. All these experiences prepare their minds for the type of thinking needed to creatively solve problems and design projects. Making them future-ready thinkers!
Mind Jumping
It continues to get more exciting as students mind-jump from one idea to another in response to a simple photo or display. They quite naturally make connections to past creative encounters, such as a halftime college football show of bands making elaborate kaleidoscopic human formations (like the pepper display). And the best part . . . at this juncture . . . students begin to ponder, "Hmmmmmm, I could do something like this in my work."
Now that students have had a bit of practice recognizing creativity, ask them to share the most fascinating creative encounter they've had so far. Celebrate! Congratulations are in order! They observed it. Discovered it. Spun off new thoughts and ideas! Grab on to their emotions and celebrate the moments together. Have them focus on the creative wealth brought into their lives! Reminding them creativity once discovered will be there again tomorrow, And forever. They just have to seek it out! And don't we all feel a bit of excitement and appreciation caught up in the sharing of creative endeavors? Hope it was an AWESOME feeling!
"Creativity is contagious – pass it on."

~ Albert Einstein
FOR YOUR CLASSROOM
It may be useful to examine photos of classic works (art, music, architecture) to encourage and inspire students to 1) observe more closely, 2) think more critically, and 3) make new connections. During the activity, students freely share different observations, perspectives, and viewpoints. 
A second activity is to take students on a group Wonder Walk around your school building or outdoor areas. Give students a blank sheet of paper. Ask students to jot down or sketch their creative observations. What is something they never noticed before? What is something they now think of as creative? When finished, return as a group to reflect and discuss. Build an on-going Wonder Wall of sketches and ideas to use as springboards for future creative projects.
LET'S REFLECT & REMEMBER . . .
Future-ready educators look for creativity in all content areas and find ways for students to explore and express their creativity – maximizing student engagement.

First recognizing and appreciating creativity helps students practice being open to new experiences. Honing the skill of observation is the next step.

Creativity throws our dendrites into high gear! You see, the brain craves novelty!
AWESOME CREATIVITY CONUNDRUM

Awesome . . .

comes in so many flavors . . .

innervating our minds with wonder . . .

dendrites crackling asunder . . .

tingling, mingling, jumbling . . .

pinnacles and feats like no other . . .

jubilant creative plunder.

P. Shade
Live, learn, and lead creatively!
Rick & Patti
THE STORY BEHIND THE CREATIVITY CONUNDRUMS